Helrunar - Secrets Of The Moon - Iron Mountain - Les Discrets - Germ - Hekate
Very relaxed I started into this Friday. I actually had planned to do trip around the area but it was raining cats and dogs and I did not have weatherproof clothes with me. So I stayed in the hotel and started writing this article and work on photos.
:: Pics ::
At 2pm I arrived at the cave. The area was already open for the festival attendees and quite a few rummaged through the merchandise and checked out the cave, while the crew, technicians and servers added finishing touches to the stage, bars, sound, lights, food and drinks.
On time the PROPHECY FEST 2016 got officially opened by :: HEKATE ::. The first show of the festival turned out to be the first highlight of the festival. Goose bumps all over. For a long time there was not much to hear from this ensemble. Hardly ever live shows were played and the last, wonderful record, Die Welt der dunklen Gärten, dates back to 2011. The ritual ceremony went under the flag: Die Sonne im Geiste, a song from the 2000 album Sonnentanz, which was the alpha and omega of the show. In between, HEKATE played songs from all eras of the band's history, wrapped in a special sound robe. Marimbas played a role and percussions created that ritual atmosphere. Occasional brasses were the icing on the cake. Woah, I was deeply touched. Also the audience was blown away, responding enthusiastically after every song. If we wouldn't have stood already, HEKATE would have been honored with standing ovations. Truly awesome. I got sun in my heart.
Setlist: Die Sonne im Geiste, Ritualsong, Dos Kelbl, Fatherland, Ascention Day, Seelenreise, Montsegúr, Serpent Day, Morituri Te Salutant, House Of God, Die Sonne im Geiste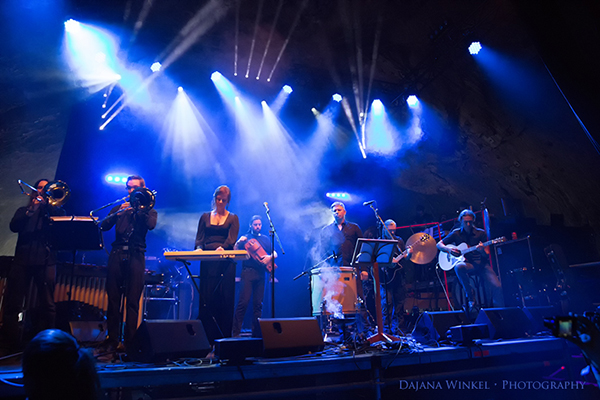 Next up are Australian Post-Black metallers :: GERM :: with a live premiere. They came all the way from down under to play for the very first time in Europe. GERM have just released their third album, Escape, they played two songs from. Also two songs they played from the debut and sophomore. Another surprise was to see Andreas Schiffmann playing bass for them (Prophecy Productions, Rock Hard, Maladie). Next to the master himself, Germ (Tim Yatras), and his mates Matthew Bell (git) and Simon Batley (drums), David Conrad (Agrypnie, Heretoir) on second guitar and Audrey Sylvain (Peste Noir) backing vocals on Butterfly were illustrious guest musicians. Great show as well!
Setlist: Butterfly, The Stain Of Past Regrets, Asteroid Of Sorrow, I'll Give Myself To The Wind, Flowers Bloom And Flowers Fall But I'm Still Waiting For The Spring, With The Death Of A Blossoming Flower, Withering In Hell, Just For A Moment (Austere cover)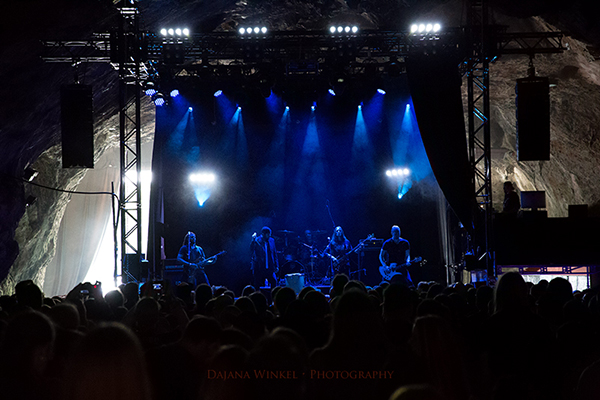 I was much looking forward to see the next band, :: LES DISCRETS ::, playing live. The French guys around mastermind Fursy Teyssier, have already finished recording their new album, Prédateurs. It will be preceded by an EP entitled Virée Nocturne, set to be released on August 12. I have to say, the new material sounds different. With the line-up of LES DISCRETS and Alcest the next day, we also got the line-up of 2009 disbanded band Amesoeurs. Many fans realized that fact and were hoping for a (secret) surprise gig. This desire wasn't fulfilled, unfortunately.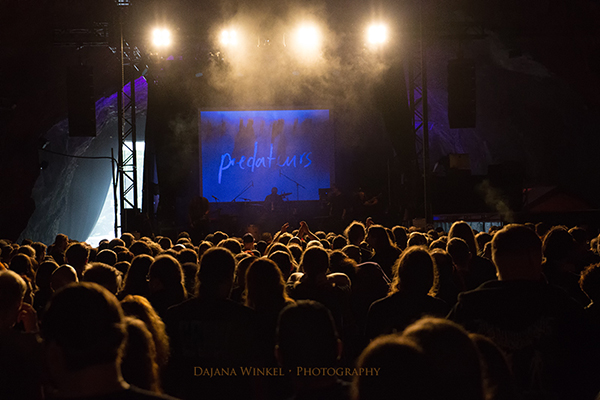 Following Irish :: IRON MOUNTAIN :: I didn't know. IRON MOUNTAIN play a mix of Folk Rock, a bit Psychedelic, Kraut and Post whatever, purely instrumental and quite melancholic. An occasionally used transverse flute made me think of Jethro Tull. Nice to listen to but not really my cup of tea.
Right after I knew what to expect and did not get disappointed. Music got heavier and darker. Much to the contrary of every common festival, PROPHECY FEST does not have openers and headliners. Every band is equal and the billing that way arranged to have an arc of suspense. :: SECRETS OF THE MOON :: actually wanted to play the whole new Sun album as an acoustic set. But the departure of bass player Naamah Ash thwarted those plans. Instead they played the full album as a Rock show, featuring new bass player Steffen Kummerer (Obscura, Thulcandra). There were some great video sequences to see on the screen behind. And there were tons of smoke. Well, the show wasn't different from the shows the band played in spring on their tour, but is was great though. Next time, guys ;)
Setlist: No More Colours, Dirty Black, Man Behind The Sun, Hole, Here Lies The Sun, I Took The Sky Away, Mark Of Cain
To finish the first festival day we got pure Black Metal with :: HELRUNAR ::. So far there have not been any delays, no technical issues, and no failures. Everything went really smooth, a great festival day. HELRUNAR wasn't seen live on stage the last 3 years, but they have released an excellent new album last year. The band's line-up has changed. Frontman Skald Draugir has borrowed Árni and Stefan from his side project Árstíðir Lífsins to play with HELRUNAR. Worked fine, again an amazing show! ;)
Setlist: Niederkunfft, Unten und im Norden, Devils Devils Everywhere, Unter dem Gletscher, Ich bin die Leere, Magdeburg brennt, Nebelspinne, Wein für Polyphem, Landsknecht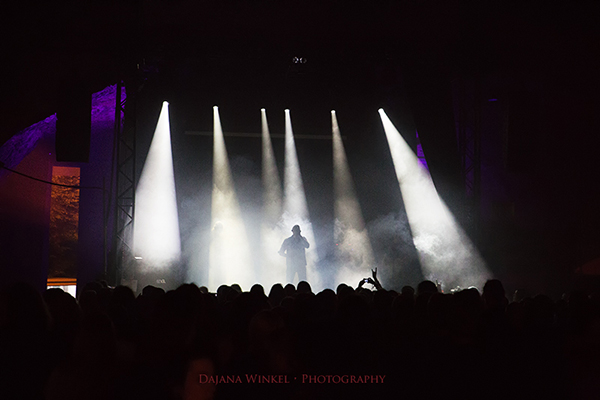 That's how the first festival day came to an end. All the people quickly diverged. It's a fresh night and I feel sorry for the ones sleeping in tents, while I went to the hotel to fall in a cuddly and warm bed.