Zin - And One - Anne Clark - Ashbury Heights - Blutengel - Destroid - Din [A] Tod - End Of Green - Faderhead - Miss Construction - Project Pitchfork - Skinny Puppy - Solitary Experiments - The Crüxshadows - Welle:Erdball
ASP - Blitzkid - Combichrist - Coppelius - Diary Of Dreams - Eisbrecher - Escape With Romeo - Ext!ze - Frank The Baptist - Frontline Assembly - Leaves' Eyes - Letzte Instanz - Mesh - Mono Inc. - Rabia Sorda - Samsas Traum - VNV Nation
[Dajana] Last year I made it for the first time to AMPHI FESTIVAL, celebrating their first little anniversary. I had a busy but a great time with lovely friends and some chaos around ;) Remember the hall, last year known as the Rheinparkhalle, where the ceiling broke down during the Feindflug show. Well, the ceiling got fixed and the hall renamed to Staatenhaus. No troubles of any kind this year :)
Live Reports :: Saturday :: Sunday :: Photos :: Saturday :: Sunday ::
Having had a a heat wave for weeks, weather cooled down right to the festival weekend showing us a cloudy sky, a bit sun and on Sunday also a bit of rain. Not too bad…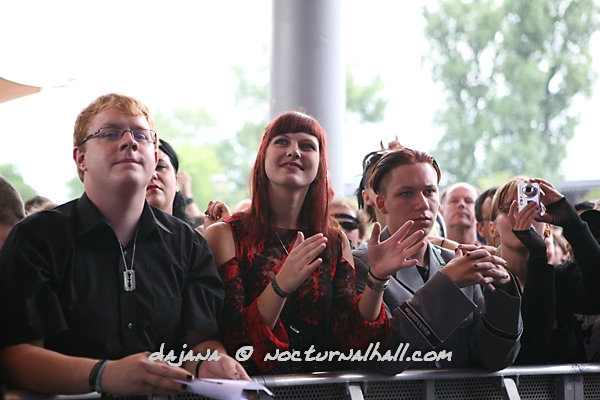 What to tell about this year's edition of AMPHI FESTIVAL?
Although already sold out last year by approx. 12.000 black souls, audience increased to around 16.000 fans, which was - in my opinion - too much for this area. It was soooo crowded everywhere, nope, that was NOT nice! Huge queues everywhere, waiting for at least a half hour, no matter what you wanted to get or where you wanted to go.
What really rankled me in the forefront of AMPHI FESTIVAL 2010 was the fact that 3 of the bands on this year's billing already played last year. AND don't think that they played special shows or something like that. No way! These bands just played normal shows. EISBRECHER actually showed up the fourth time (in five years) in a row! That really, really sucks. Even worse, most of the other bands played in 2008. I only can repeat… there are so many great bands out there that no festival is in need to book ANY band twice.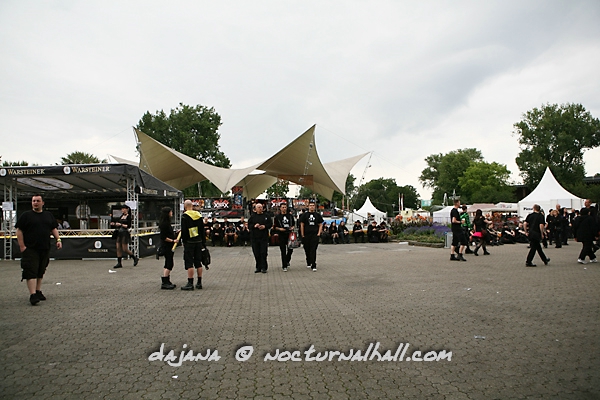 Of course, the second festival day was clouded by the tragic disaster at the Love Parade in Duisburg with 20 ravers confirmed dead and hundreds of people injured. But... no minute of silence or any other expression of condolences, just a few trivial words by the host, that's all.Hmmm...
Ok, media people had again a really stressy time due to overlapping stage times, although Nocturnal Hall and Reflections Of Darkness (Dani, Leo and Janine) joined forces once again to share work and duties ;) But that's what we are living for, right? ;)
So, my personal highlights… first and for all: SKINNY PUPPY! What a great show :) DESTROID was great; also PROJECT PITCHFORK and I finally saw ANNE CLARK for the first time. On the second day I got deeply touched and surprised by ESCAPE WITH ROMEO – definitely a new discovery, COPPELIUS, DIARY OF DREAMS, FRONT LINE ASSEMBLY and once again COMBICHRIST, they so so fucking rock!