[Dajana] Time passes by quickly and the well established AMPHI FESTIVAL already sees its fifth edition, celebrated its first anniversary ;) And I have to confess: it was a great party! Not necessarily the way the organizers had planned but… as you know… is de Calii around, some chaos is guaranteed. Hehehe. After the first day I felt a bit remembered of legendary "Chaos-Wave-Gotik-Treffen" in Leipzig in 2000 ;)
Fields Of The Nephilim - Covenant - Leæther Strip - Eisbrecher - The Birthday Massacre - Solar Fake - Mantus - Coppelius // Laibach - Feindflug - Agonoize - Marsheaux - Absolute Body Control - Scandy - XotoX - Jäger 90 - Auto-Auto
Front 242 - Unheilig - Hocico - Saltatio Mortis - Diorama - Delain - Panzer AG - Mono Inc. // Camouflage - The Gathering - KMFDM - Henke - Qntal - Omina - Jesus On Extasy - The Other - Rosa Crvx
As for me it was my very first AMPHI FESTIVAL appearance. If I get days off at this time I normally attend a Metal festival ;) As for 2009 I decided to make a visit at AMPHI FESTIVAL, most of all, because I had to outweigh the downer of the last year. And I tell ya I had to pull out all the stops to propitiate the organizers and to get what I wanted ;)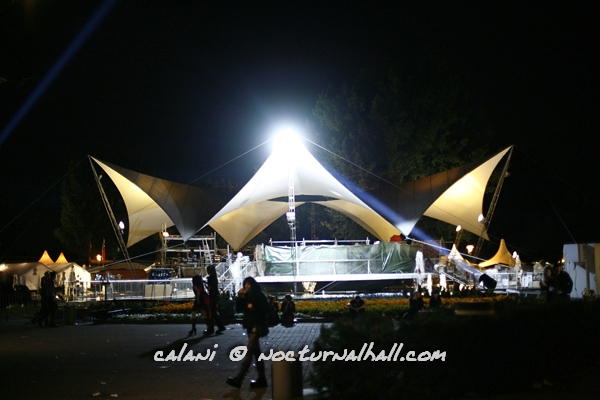 Being singly there it was clear that it would be a heavy task to do this job all alone so I joined forces with the team of Reflections Of Darkness to manage the festival in co-operation. Work shared is work halved ;) Responsible for live reviews are: Dajana, Leo, Niggels and Sebastian, as for the photos: Dani & Dani *lol*
Ok, being such a strong force no one could stop us and we had much fun ;) The headline for the this year's AMPHI FESTIVAL would be:
Of blood splattering disasters, a gummi bear gang, Ufo's and flashy-thinged men in black *lol*
:: Live reviews :: Saturday :: Sunday :: Photos :: Saturday :: Sunday ::
Résumé: I love the area where the AMPHI FESTIVAL takes place. It's a huge area next to river Rhine (Colognes exhibition center) offering place for many food, coffee and beer booths, chill out areas, and a huge shopping mall for clothes, the beach, fountains and flower-beds everywhere. There have been enough toilets, nice securities (L.S.C.) and disposer. Press and VIP's had its own tent to sit down, get saved from rain and to do a lot of nonsense with flashes *lol*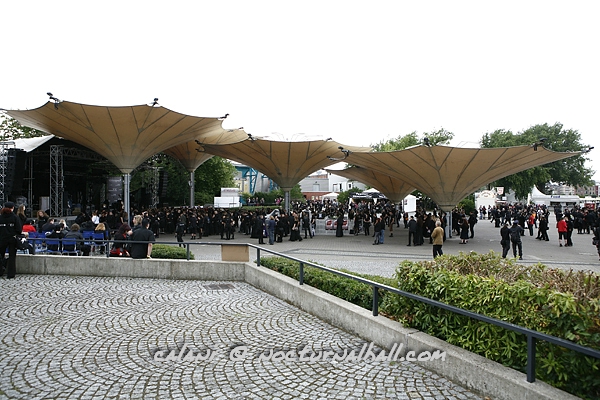 Negative points: Ok, I learned that the AMPHI organizers can't do anything against it, but this area has its own catering and these dudes know how to get rich on these both days. Food and drinking prices were exorbitant! Really! Pizza, Chinese food for 6 Euros??? Bratwurst with bred 3 Euros; beer 4 Euros… pfffffff. Of course it is not allowed to bring any drinks or food on the festival area.
Second point are the stage times. If you are a fan of sequent bands you can be sure that you cannot see them in its entirety coz of intersecting stage times. I personally hate it when bands play at the same time on different stages or when you have to leave one band you like to see to get to the other one on time. Besides, you don't have any buffer when things chronologically get out of hands. It happened quickly. Some musicians got stuck in jams, some overran deadlines for soundcheck and make-up and at the end we had a delay of one hour on the Theater stage… That wasn't nice!
I say: less bands and more time in-between to change stages. A festival is supposed to have a great time and to see the bands I love and is not a sprint competition.
AND… I gonna repeat this: also in the Gothic and Electro scene are enough great bands to find. There is NO NEED to let the same bands play the same festival every year or every two years!