Another anniversary is ready to get celebrated :) 25 years ago SAVATGE released their legendary and groundbreaking album The Hall Of The Mountain King. In 2012 the main man's band JON OLIVA'S PAIN comes around to play this masterpiece in its entirety live. As the announcement was made I flew…
:: pics ::
Till the show's day I was unaware of the support bands and so fairly curious. In fact, there have been two more bands sharing stage with JON OLIVA'S PAIN in a totally sold out, very packed, hellish hot and tropically humid • Turock Club •. (well, at least my cam and lenses did not get fogged this time).
The evening got kicked off by Belgian Power metallers :: MAX PIE :: And their start was… tough. The band had to go through many sound problems, especially with the singing, which sounded much off-key and out of tune, if to hear at all. Furthermore Jon Oliva's piano took most of the stage room and condemned all other musicians to a very small radius of movement (and our sight as photographers). Well, seemed the audience didn't get used to MAX PIE and still needed some more booze to warm up.
Setlist: Side Of Dime, Formatted Mind, Come To My Grave, A Soldier's Dead, Like A September Day, When You're Gone, Seal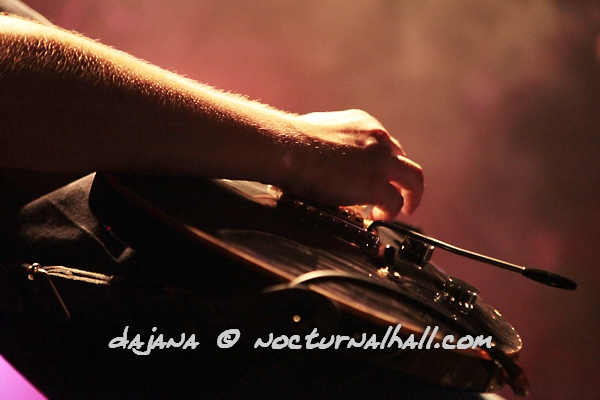 :: KINGCROW :: right after knew much more how to enthuse and to convince the crowd. Different world. These Italian gents only scratched my horizon of consciousness at its edge. Too stupid, because their songs, all from their most recent release Phlegeton, captivated me in a twinkling of an eye and develop such energy and dynamics. And KINGCROW definitely love Pain Of Salvation ;) Best heard in Fading Out Pt. III. Generally KINCROW own a similar kind of potential, are much varied, surprising, with many twists and turns in the songs, sometimes epic and of a brilliant musicianship. They are just more progressive Rock the classic way. And live KINGCROW are definitely smashing! Awesome band! I need more!
Setlist: Evision, Islands, Lovocaine, Timeshift Box, Washing Out Memories, Fading Out Pt. III, Phlegeton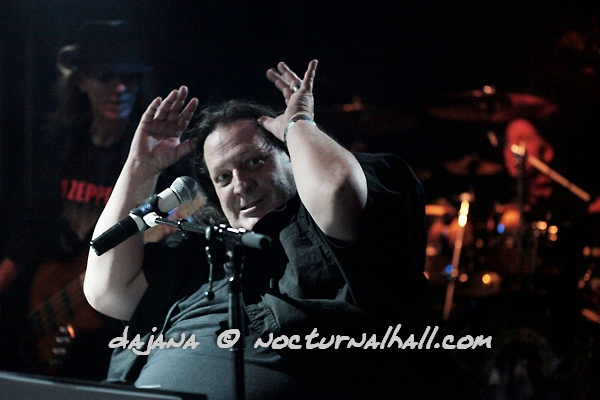 Finally! Now everybody rushed in and close to the stage. It got crowded. Packed. Very cuddly and very hot. Jon Oliva jumped on stage, made jokes, sat down behind his white piano and explained how the show would go on. First :: JON OLIVA'S PAIN :: played a best-of set through the histories of SAVATAGE, JON OLIVA'S PAIN and Jon Oliva's old side project Doctor Butcher. And they kicked with Gutter Ballet and Edge Of Thorns. How fkg great is that? I immediately got gooseflesh all over while shivers ran up and down the spine. And it wouldn't stop through the entire show as JOP played one classic after another. Almost all songs got full-throated sang along and frenetically hailed afterwards.
With this small tour between the festival dates JON OLIVA'S PAIN also introduce their new line-up consisting of Jon Oliva (of course) voice, keyboards, Christopher Kinder - drums, Jerry Outlaw - guitar, Joseph Diaz - guitar, and brand new: Jason Jennings – bass, who is also for the very first time in Europe. He seemed to be the happiest man on earth tonight, smiling all over his face ;) Also the other gents played their souls out of body. Jon Oliva always again jumped up communicating with the crowd and doing his jokes. Some minor technical probs got solved quickly and didn't disturb as everybody was wallowing in these old songs with engrossed faces. Some fans tried to surf the crowd what didn't work and caused some displeasure.
Many of the songs seemed to be Jon Oliva's faves, and ones of his late brother Criss (who often got mentioned), only one he did not like at all. Other ones got performed live for the very first time (Prelude To Madness if I got it right) or for the first time after decades. To cut a long story short: the show was full of highlights and premiers and got closed with the grandiose Believe. One might sense it already: the show was utmost marvelous, stunning, outstanding, the best of best in a long time! Such an awesome evening *sighs* I just would have wished to get some better music afterwards during the disco to let this evening fade away appropriate. It was all about this nu-whatever shit focused on the kiddies below 20. I tell you I felt really old there. So I left soon after.
Set 1: Gutter Ballet, Edge Of Thorns, Death Rides A Black Horse, Sirens, Don't Talk To Me, Power Of The Night, Festival, Tonight He Grins Again, Walk Upon The Water, Ghost In The Ruins
Set 2: 24 Hrs. Ago, Beyond The Doors Of The Dark, Strange Wings, Legions, The Price You Pay, Devastation, White Witch, Prelude To Madness, Hall Of The Mountain King, Believe