The Hindsight Tour
[Dajana] Once upon the time... ok, 4 years ago ANATHEMA stopped at the Matrix in Bochum, Germany in support of their album A Natural Desaster back at the time. A memorable show, kind of… Since then the Scouser more or less lived a shadow existence, got dropped by their label without finding a new home and had to face some other problems too. In between the gents have been busily touring, several times with Porcupine Tree, a perfect and under the skin going tour package ;)
2008 ANATHEMA finally released their long awaited new record Hindsight, which in fact contains only one new song, the rest are reworked older songs in an acoustic/symphonic soundrobe. Nice though and of course a wonderful reason to show their faces again, on stage, as headliner, with a promised long set… ;)
:: pics ::
[Dajana] Ok, let's go to the Matrix, a location that likes to confuse its guests with opening times. Announced was 6pm doors and 7pm beginning of the show. De facto doors got open after 7pm and the show kicked off at 8pm. Hmm. Odd. The Matrix seemingly also has taken over the Cologne-beverage-concept: no air condition! It quickly became really hot in the tube. Should have boosted the beverage sale…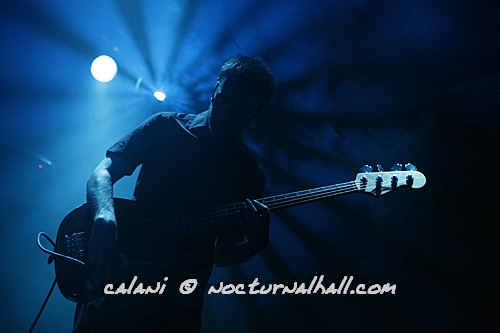 [Dajana] With the tube half filled French mastermind Nicolas Chapel alias :: DEMIANS :: opened the evening, supported by a live drummer and bassist. An almost 50 minutes longing fantastic journey followed through the band's debut record Building An Empire. A real highlight was the 15 minutes running closer entitled Sand, which was a hauntingly beautiful manifest of emotions.
[Jochen] What quickly stroke (and didn't get any better at the headliner's show) was the bad sound, which turned out the fast entry and the shorter interludes around The Perfect Symmetry and Sand to a pasty 0815 thrashing. Here nothing was to sense out from the often quoted closeness to Porcupine Tree. DEMIANS became strong when they took time to develop their musical ideas and just peu à peu pushed towards to heavier areas. In any case a band with huge potential we will hopefully hear much more from in adequate ambiance.
[Dajana] :: ANATHEMA :: afterwards got frenetically welcomed and opened their set downright classic with Deep and Closer. The already pasty sound gets even more unbalanced, Vincent Cavanaghs singing and guitar are way too quiet and one speaker completely failed every now and then. Monitor sound must have been to be ok because the band seemingly didn't realize what was going on. However, it was very dark, completely smoked and the Cavanaghs nothing more than just silhouette, while drummer John and key wiz Lez hardly ever stepped out of the fog. Fans took it easy and enthusiastically celebrated the band and themselves. Every song got sung along like a many-voiced choir, finding its climax during the old classics. With goose-flesh guaranteed. Meanwhile it seems like the band doesn't feel comfortable in their songs anymore, which have changed a lot. Especially Vincent played often wrong and didn't find the right cue or lyric line.
[Jochen] It surely isn't uncomplicated to tour with the last record dated back for years and a band entering the stage to play stale news. Either the base of such shows is the enjoyment of playing live together or to present old songs in new versions. First one I definitely won't deny, the Cavanagh brothers often act much enthusiastic, although singer Vincents performance sometimes turned out to be pure posing because of the already mentioned sound problems. At least he honored the crowd as "best audience so far", which wasn't bereft of irony since the Bochum show was the sixth one on the itinerary. Regarding the re-orientation I think the will is there but the realization succeeds just half-hearted. Still elegiac, but heavier than on the semi-acoustic Hindsight album, ANATHEMA oscillate between the desire of establishing themselves in the melancholic Alternative scene but not losing the headbanging moments. Nice try but there other bands out there that manage this tightrope walk much better. Thereby ANATHEMA don't need to hide their light under a bushel, they are virtuoso in creating moving atmosphere, and when they start to rock, no matter if dreamy or heavy, with the audience embraced, it warmed the heart. Downright born for a charismatic show the band too often thwarted themselves. And... Vincents vocoder experiments aren't the worst one, but who needs such thing in such surroundings? We rather yield it to Cher.
ANATHEMA delivered a 2 hours entertainment with highs and lows: sometimes stirrings, sometimes stale and unoriented and then again able to get to the point again with songs and contents. A metamorphosis, whereas the most thrilling question is: what's coming next? Is there anything coming at all?
Setlist: Deep, Closer, Far Away, Angels Walk Among Us, A Simple Mistake, Anyone Anywhere, Empty, Judgement/Panic, Shroud Of False, Lost Control, Regret, Hope, Temporary Peace, Flying, Are You There, One Last Goodbye // Angelica, Sleepless, Hindsight
[Dajana] It was a mixed show experience with bad sound and lights and too much smoke, an inspiring show by DEMIANS and a frenetically taken show by ANATHEMA.
[Jochen] Word! I agree.